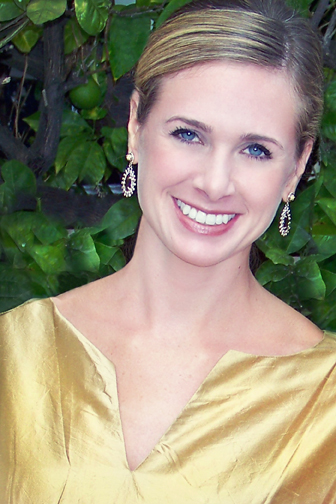 Named to Austin HOME Magazine's list of "Who to call for interior design help," Heather Blue Harkovich's style is described as "Classic, Serene, and Chic." The wonderful marriage of Heather's analytical and business skills, an extensive knowledge of art history, and her exquisite design sense helps Heather create rooms that are as uniquely beautiful as they are functional and organized.
Heather opened her Austin, Texas design firm and retail store Heather Scott Home & Design with her husband Scott in 2007 where she combines her talents and cultural experiences to create trend-setting retail vignettes and classic custom interior design for high profile clients across the United States. She recently appeared on TLC's TV show "Four Houses" and was hired by HGTV's new show "Buying & Selling With the Property Brothers" to assist in behind the scenes design work for multiple episodes filmed in Austin.
---
Q: What inspired you to pursue interior design?
A: I have always been interested in the arts, but did not think about becoming an Interior Designer until I became involved with creative advertising in my corporate job (I have a degree in Fine Arts and an MBA). I realized I wanted to pursue a career which allowed me to be more creative. I loved reading home design magazines, so initially I decided to take an Interior Design Certificate program to see if I liked the field. Within 1 week I knew it was the career for me.
Q: What is your process for selecting art, and what advice do you have for someone buying art for the first time?
A: I usually find an artist which I think reflects the style of my client. I think art is very personal, so I try to select pieces which I think will not only look best, but also be something the homeowner is enthusiastic about. I then look at sizes, then colors. I do not think art has to 'match' the décor, but it is important, for me as a designer, that the art selected to be cohesive with the design scheme.
I would suggest someone new to buying art take some time to familiarize themselves with different styles. See which styles will appeal to them over time. When I first started studying art I liked impressionism, but I had an Art History teacher that taught me to appreciate contemporary art. Although my decorating style is not contemporary in anyway, that is usually the art I am now most drawn to. So, over time I think you can refine your tastes and learn more about what you like and why you like it. If you invest in a lot of art before you have defined your style, you are not making a wise spending decision, and I do believe art is a very good investment.
Q: What basic design tips do you have for anyone decorating a space from scratch?
A: If you are decorating a space from scratch the most important first step is to find an inspiration piece. For me, that inspiration piece is most often a piece of art or fabric. This can define your color scheme for the space. Many designers believe in starting with a rug. Unless your budget for a rug is $15,000 and your rug is an art piece in itself, I don't agree with that philosophy. I think it is more important to find an element you love, such as art which is emotional, and use that as the foundation for your color scheme and style.
Q: What are some of the new art trends you expect to see this summer and fall?
A: I expect to see art which is more vibrant and fun. The past few years have been a bit muted and restrained when it comes to art and decorating. I believe homeowners are starting to feel more confident and wanting to feel happier in their homes.
Q: Who are your favorite artists?
A: My favorite artists are Elizabeth Stockton, Mallory Page and Cy Twombly. I had wanted a piece of art by Elizabeth Stockton for over 5 years before I was finally able to acquire one. I recently purchased 2 pieces from Mallory Page, one for my home and one for my office. I recently saw a Cy Twombly piece which sold for $15 million. Regrettably, I don't have any plans to purchase a Cy Twombly piece in the near (or far) future!
---
Interested in being part of our Designer Spotlight? Let us know at curator [at] globalgallery.com!