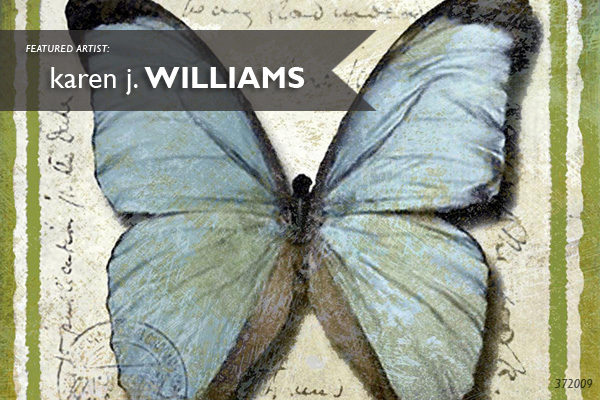 A self-taught artist, Karen has loved creating art in any form since early childhood. Karen's artwork is a combination of her artistic passions – photography, graphics and usually a hands-on added element. Many of her pieces are inspired by personal experiences or those of friends.
Karen is diverse in both her subject matter as well as her approach to creating, constantly improving her techniques and finding enjoyment in her work.
Click here to check out the entire Karen J. Williams collection.
---
Q: What inspires you?
A: So many things, my family, nature, people and emotions. This sounds cliche, but truly it is the world around me. I find inspiration in everyday things.
Q: What do you enjoy doing when you are not creating?
A: Traveling to new places with my family. Even if it is a weekend getaway. I love seeing new things, going to new places, and meeting new people. Getting to do that with my husband and children is always a bonus.
Q: Whose art can we find displayed in your home?
A: Mine, Toulouse-Lautrec, Wyland
Q: What 3 words best describe your art?
A: Decorative, themed, varied.
Q: Do you have any advice for aspiring artists?
A: Don't give up, Push yourself, Trust yourself.
---
Interested in having your work licensed for fine art reproductions? Email us at curator [at] globalgallery.com for submission guidelines!